Sparrow Defense provides professional training in firearms, defensive tactics, and emergency medical techniques. We offer services to individuals, law enforcement agencies, religious organizations, and businesses.

We continually refine our courses to provide students with the best instruction available. Training maintains a low student-to-instructor ratio. Each shooter receives individual attention and personal instruction.

If you've never held a rifle, pistol, or shotgun, our beginner workshops will teach safety and the fundamentals.

For experienced shooters, lessons and classes are designed to push and refine your skills. You will leave more confident and proficient than when you arrived.
Clark Sparrow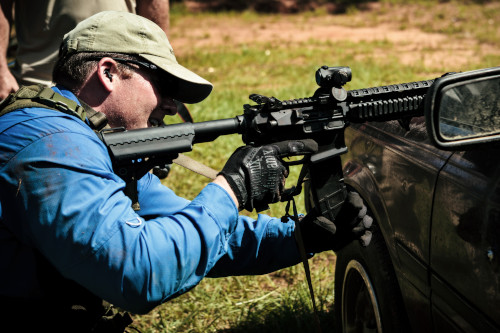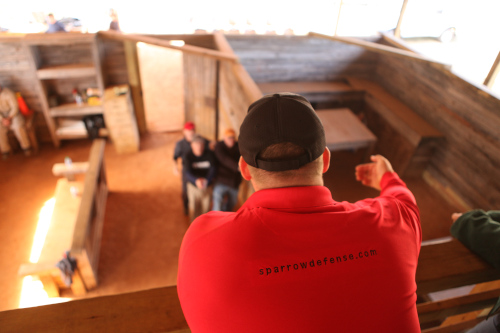 Clark's formal education includes a Bachelor's Degree from Gettysburg College and a Master's Degree in Education from the University of Georgia. He has been a full-time law enforcement officer since 2006, when he graduated from the police academy at the top of his class in both academic achievement and marksmanship.
Clark's work experience includes assignments to:
Uniform Patrol Supervisor

K-9 Unit

Crime / Narcotics Suppression

SWAT

Agency Sniper

State Police Academy Instructor

3,500+ hours of formal training
Clark was a full-time instructor at the Georgia Public Safety Training Center with the rank of Lieutenant. While there, he was appointed to the Firearms Committee, which developed and revised the state mandated firearms training program for new law enforcement officers.
Clark formed Sparrow Defense in 2014 to provide training and consultation services to law enforcement, businesses, and civilians. In 2020, Clark transitioned to running Sparrow Defense full time, but serves as a reserve officer and instructor at his previous agency.
Law Enforcement Credentials
GA POST General Instructor
GA POST Firearms Instructor
GA POST Defensive Tactics Instructor
GA POST Use of Force Instructor
GA POST Driving Instructor
GA POST Emergency Medical Instructor
GA POST Standardized Field Sobriety Instructor
GA POST RADAR / LIDAR Speed Detection Device Instructor
Patrol Rifle Instructor: Georgia Association of Law Enforcement Firearms Instructors (GALEFI)
Shotgun Instructor School: Georgia Public Safety Training Center
Tactical Medical Instructor: Federal Law Enforcement Training Center (FLETC)
ALERRT Active Shooter Instructor
Patrol Vehicle CQB Instructor: Centrifuge Training
Miniature Red Dot Sight Instructor: Centrifuge Training
First Aid / CPR Instructor: American Heart Association
Intermediate Law Enforcement Certification
Advanced Law Enforcement Certification
Supervisory Law Enforcement Certification
Field Training Officer (FTO) Certification
SWAT School and 5+ years of SWAT experience
Sniper School (multiple) and 2+ years as agency marksman
Sub-machine Gun School
Protective Details / Diplomat Protection Training
ALERRT Active Shooter Response Training (multiple courses)
Incident Command for Active Shooter Incidents - (DoHS /FEMA)
Additional Certifications
Integrated Weapon Systems Instructor Course: "Super" Dave Harrington, of Combat Speed, LLC
Vehicle Counter-Ambush Instructor Development: Chase Jenkins, of Talon Defense
Low-Light Vehicle Counter-Ambush Instructor Development: Chase Jenkins, of Talon Defense
Patrol Vehicle CQB Instructor Course: William Petty, of Centrifuge Training
Pistol Instructor Course: Tom Givens, of Range Master
Rifle / Pistol / Shotgun Instructor: John Farnam, of Defense Training International
NRA Certified Instructor (Basic Pistol, Personal Protection in the Home, Personal Protection Outside the Home)
United States Concealed Carry Association (USCCA) Concealed Carry & Home Defense Fundamentals Instructor
Ultimate Training Munitions (UTM) Instructor Certification
Additional Training and Experience
Combat Speed Pistol: "Super" Dave Harrington, of Combat Speed, LLC
Integrated Weapon Systems w/ focus on structure clearing / team tactics: "Super" Dave Harrington, of Combat Speed, LLC
Killhouse: Matt Graham, of Graham Combat
Partner's Shoot House: Steve Fisher of Sentinel Concepts
Pistol Shooting Solutions: Gabe White of Gabe White Training
Combative Pistol: Kelly McCaan, of Kembativz Brand
Combative Pistol: Tom Givens, of Rangemaster
Performance Pistol: Frank Proctor, of Way of the Gun
Tactical Handgun 101: Randy Cain, of Cumberland Tactics
"Gunfighter" Vehicle Defense / Counter Ambush: Chase Jenkins, of Talon Defense
"Dark Gunfighter" Low Light Vehicle Defense / Counter Ambush: Chase Jenkins, of Talon Defense
TCCC (C2): Hugh Coffee of Ditch Medicine / Chase Jenkins of Talon Defense
Dynamic Fighting Rifle: Eric Lund, of Lund Dynamics
AK Operator Course: Erik Lund, of Lund Dynamics
Extreme Close Quarters Concepts (ECQC): Craig "SouthNarc" Douglas, of Shivworks
Enhanced Performance in Confrontations (EPIC): Dennis Martin, of CQB Services
High Risk Personnel (HRP): Dennis Martin, of CQB Services
Survival Tactics (Law Enforcement Restricted): Dennis Martin, of CQB ServicesCCW Fundamentals: Baret Fawbush / TruExodus
Vehicle Tactics: John "Shrek" McPhee, the Sheriff of Baghdad
Video Diagnostic Pistol: John "Shrek" McPhee, the Sheriff of Baghdad (x2 courses)
Video Diagnostic Rifle: John "Shrek" McPhee, the Sheriff of Baghdad (x2 courses)
Private Pistol Instruction: Ken Park, of Precision Shooting Academy
Private Rifle Instruction: Jamie Wiedeman, of Wiedeman Consulting and SureFire, LLC
Medical First Responder
Certified Glock Armorer
Certified Sig Sauer Armorer
Certified Smith and Wesson M&P Rifle and Pistol Armorer
4 years of formal boxing training